Jacques'Blog & Recent Updates
Good evening my brothers and sisters. How are you? I hope all is well. God is good! I have news to post:
Last Sunday (2/24) my administration group and I enjoyed a great time with the Kingdom Kids. It was a time of worship, adoration, recreation and fun. It was also a time of sharing and having lunch together. These kids are always looking for such times with them, because where they live, they have so little. Most of them are orphans and need us to take them in to our LOVE FOR HAITI MINISTRY.
Berto (our lawyer) and I are working hard to have the ministry registered. It's taking a little longer than planned, but then, everything is done according to God's will. We are hoping to finish with the registration in two weeks. Then we can start the process of purchasing the land. Please keep us in deep prayer…for God to open all doors, so we can have a place for the Kingdom Kids.
P.S. The photos (to the right and below) are of our time with the Kingdom Kids!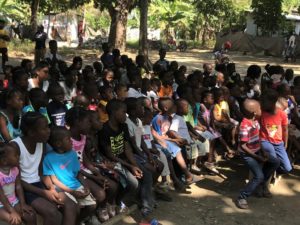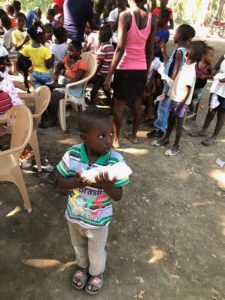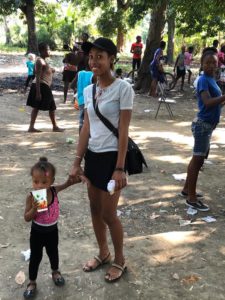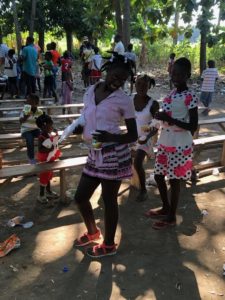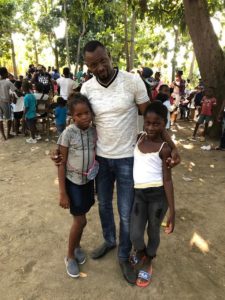 ________________________________________________________________________________________________________
February 12, 2019 Update from Haiti
Hello my brothers and sisters,
This is an update and a prayer request for me and the Bethel students and the missionary of Great Rock Church. The guys of GRC have been stuck near the hotel by the Airport since Saturday. I sent a text to Anthony, our Love for Haiti land donor, warning him and the others about the uprising in Haiti. The country has been locked down since last Thursday. Michelet, my brother, has not gone to work since then. The people of Haiti want the president to leave the country. They will not stop protesting until he is gone. All roads are blocked, streets are on fire, a few people have died already. Please keep us in deep prayer. Now our paper work can not be done soon. But God is good! He showed all these things in a dream. I'm strong, this is my calling. Our Faith must be tested, for our Love for Haiti ministry is so big. It is the goodness of God that gives me strength.
January 2019
Haiti Update
Greetings my brothers and sisters.
How are you? I hope all is well. Grace and Peace be with you all.
It has been a while since I left to go to Haiti to register the Love For Haiti ministry. There have been many obstacles to complete this process because of the different documents that are needed. Pastor Ron has collected and sent all the documents I need, notarized and validated by the Haiti Consulate in Boston. Now I await their arrival so this process can be completed, thanks be to God!
The original plan was for me to be in Haiti for two months to do the registration and the purchasing of the land. Already one month has gone by; only one month remains.
Time is getting short. The person donating the land is arriving here on February 9th. On the 11th, we intend to process the purchase of the land. I might run out of time to complete this task and may need to extend my time by a couple weeks.
If I need more time here, I'm asking my brothers and sisters who support me to donate a little extra so this process can be completed. I know God is good and I pray the finances needed for me to stay will be provided.
_________________________________________________________________________________________
Good evening my brothers and sisters. How are you? I hope you are well. Grace and peace be with you all.
I want to share with you some updates on our Love For Haiti ministry:
Our Bethel graduates and our administrative group in Haiti have done well to successfully complete the Inductive Bible Study course. All the students took a turn to lead a session of the class and did a wonderful job thanks to their commitment to the Holy Spirit and their great understanding of what they were learning.
We were in the process of purchasing land in Haiti for the Kingdom Kids (our orphans). A door opened to do this through Great Rock Church, but God has closed that door. Instead, God is opening a new door for our ministry to still get land, but it's being done His way. The need for this land where we can build a home and provide for our orphans is great. The children are growing and are so vulnerable. They need protection, especially the young girls. We are asking for a lot of prayers. And we will be needing financial support for them as things start to take off. Please keep this need in prayer.
My co-administrator in Haiti, Frere Antoine, is working very hard for the ministry, especially for the Kingdom Kids, getting all the paperwork done that the government requires. He is also completing the paperwork that is required for the Love For Haiti ministry to be registered with the government. And we now have a lawyer on board who is working for us also. At the end of this year, I will be returning to Haiti to join Antoine and the lawyer as we seek to acquire the land.
I want to thank all my supporters who have stayed so faithful to God's servant in Haiti. Your prayers and financial support make it possible for me to travel to Haiti and allow this ministry to grow.
To my supporters, do not be dismayed that you aren't serving in Haiti. Remember, you may not be in the field but spiritually you are with me there. In God's eyes, you are a vital part of this ministry because of your prayers and financial support. Please continue to financially support me as I follow God's calling on my heart to serve Love For Haiti. Please give as
God puts it on your heart. The need in Haiti is great.
Blessings and much love to you all!